Whole body training
Cycling is a great way to exercise the whole body. Pedalling not only strengthens the legs, but also activates the muscles in the back, abdomen and arms. Keeping your balance and steering the bike also trains your coordination and strengthens your core muscles. Regular cycling can thus strengthen and tone your entire body.
Training for the cardiovascular system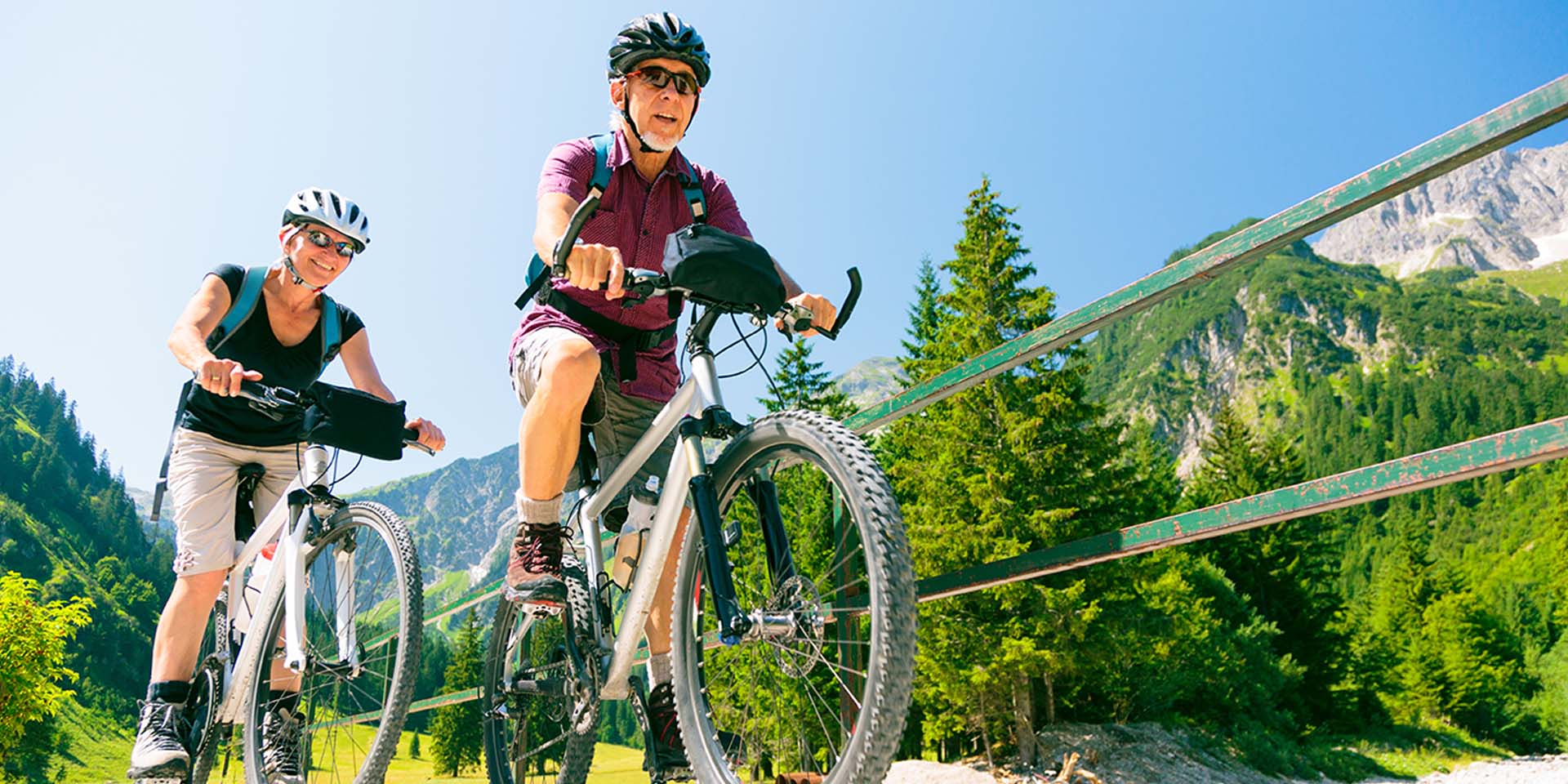 Cycling is the ideal sport to strengthen the cardiovascular system. By pedalling and raising your pulse, your heart is stimulated to work more efficiently. In the long term, this leads to a strengthening of the heart muscle, a reduction in blood pressure and an improvement in blood circulation. Regular cycling can thus reduce the risk of cardiovascular diseases such as heart attacks, strokes and diabetes.
Stress reduction and mental health
Cycling not only offers physical benefits, but also has positive effects on mental health. The physical activity of cycling releases endorphins that act as natural mood enhancers. In addition, cycling allows you to take a timeout from the stresses and strains of everyday life and offers you the opportunity to enjoy nature and clear the mind. Regular cycling can help reduce stress, improve concentration and increase overall well-being in the long term.
Weight management
Cycling is an effective way to lose weight or maintain weight. Physical exertion burns calories, which leads to the burning of body fat. Regular training on the bike helps to boost the metabolism and promote fat burning, even during rest phases. In addition, cycling is a joint-friendly alternative to jogging, for example, and is therefore even suitable for people who are overweight or have joint problems.
Ideal family sport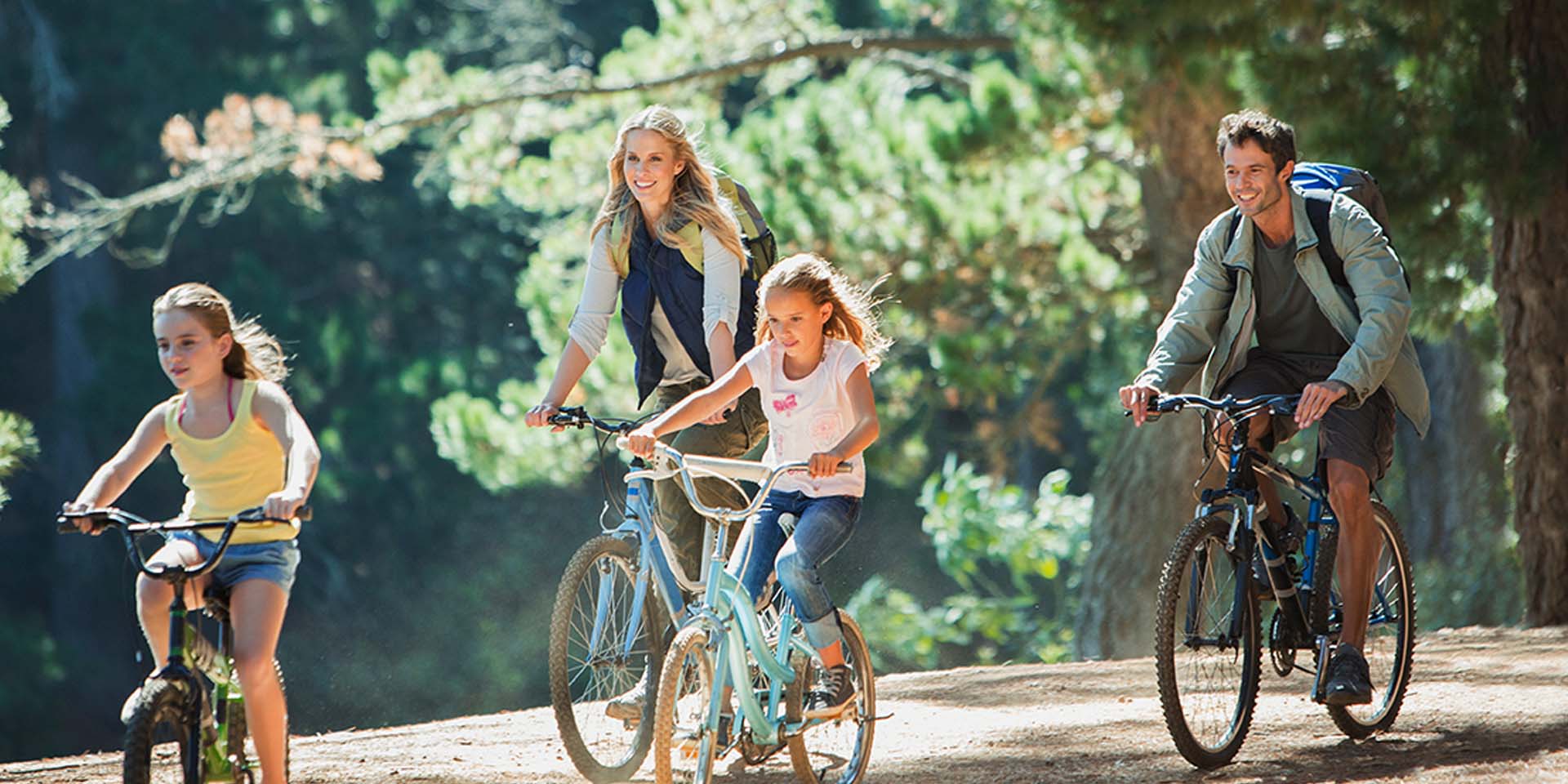 Cycling is the ideal sport for the whole family. It promotes time together with others. And besides, the whole family can keep fit on their bikes. Whether you're in the city or out in nature, cycling is a great way to discover new places and explore the area together.
Leisure tips for the whole family
For every age and fitness level
Cycling can be adapted to different age groups and fitness levels. There are different levels of difficulty and route lengths so that everyone can choose the level that suits them – from short excursions in the vicinity to longer cycling tours or even bicycle tours lasting several days.
How long and how often should you cycle?
How often and for how long you get on your bike depends on your individual fitness level, state of health and personal goals. In any case, it is important to cycle regularly in order to benefit from the health advantages of cycling. The ideal would be to ride several times a week to maintain continuous physical activity.
The duration of the cycling tours can also vary. Beginners can start with shorter rides, lasting about 30 minutes, and gradually increase their endurance. For advanced cyclists or those who want to improve their fitness, rides of 60 minutes or longer may be recommended.
Anyone who is fit and athletically ambitious can effectively increase their fitness on the bike with interval training. In interval training, you repeatedly build in short intensive sections with increased speed or higher resistance while cycling.
Tip:
In addition to regular cycling, it is also important to give the body enough rest. Break days should be scheduled to allow muscles and joints to regenerate and avoid overuse injuries. One or two rest days per week is a good guideline.
Variation in training with the e-bike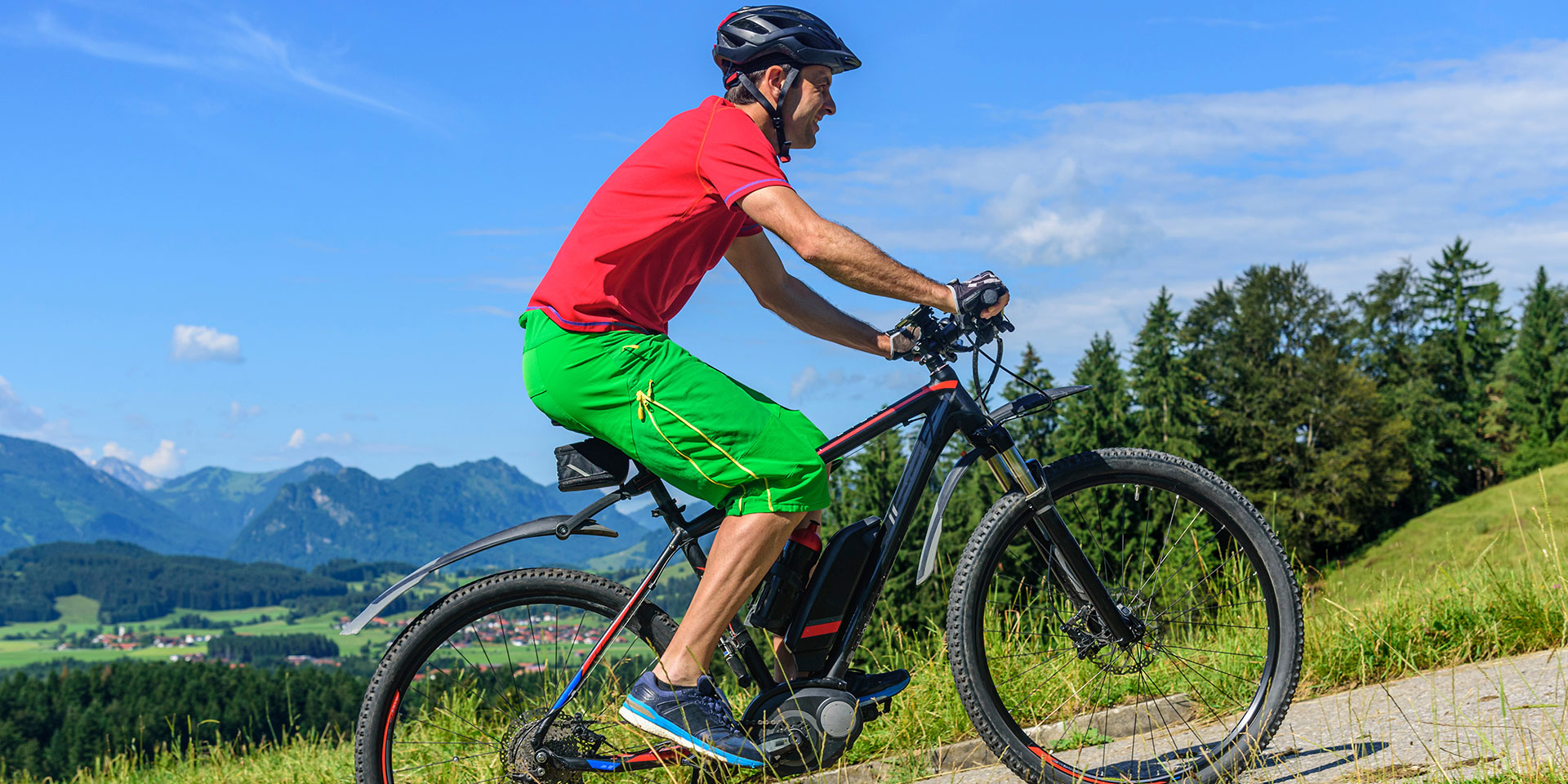 More and more people are buying an e-bike to cover longer and more strenuous distances or as a supplement to training. This is because e-bikes offer the possibility to adapt training and make it more varied. With an e-bike, even athletic cyclists can ride faster, increasing the intensity of the workout and using their muscles even more.
But an e-bike can also serve as an ideal support for regeneration after intensive training units or races, because it can help to reduce the load and still keep moving. This promotes regeneration and at the same time keeps the risk of injury as low as possible.
But beware:
The battery of an e-bike generates a lot of electromagnetic radiation (electro-smog)
– similar to that in an e-car. Therefore, one should also make sure to compensate for the effects of radiation when riding an e-bike.
memonizer for the E-Bike
How to prepare optimally for a cycling tour
Whether you're on an e-bike, mountain bike, gravel bike or trekking bike – if you want to prepare for a cycling tour in summer, there are some important aspects to consider, to ensure you get to your destination safely: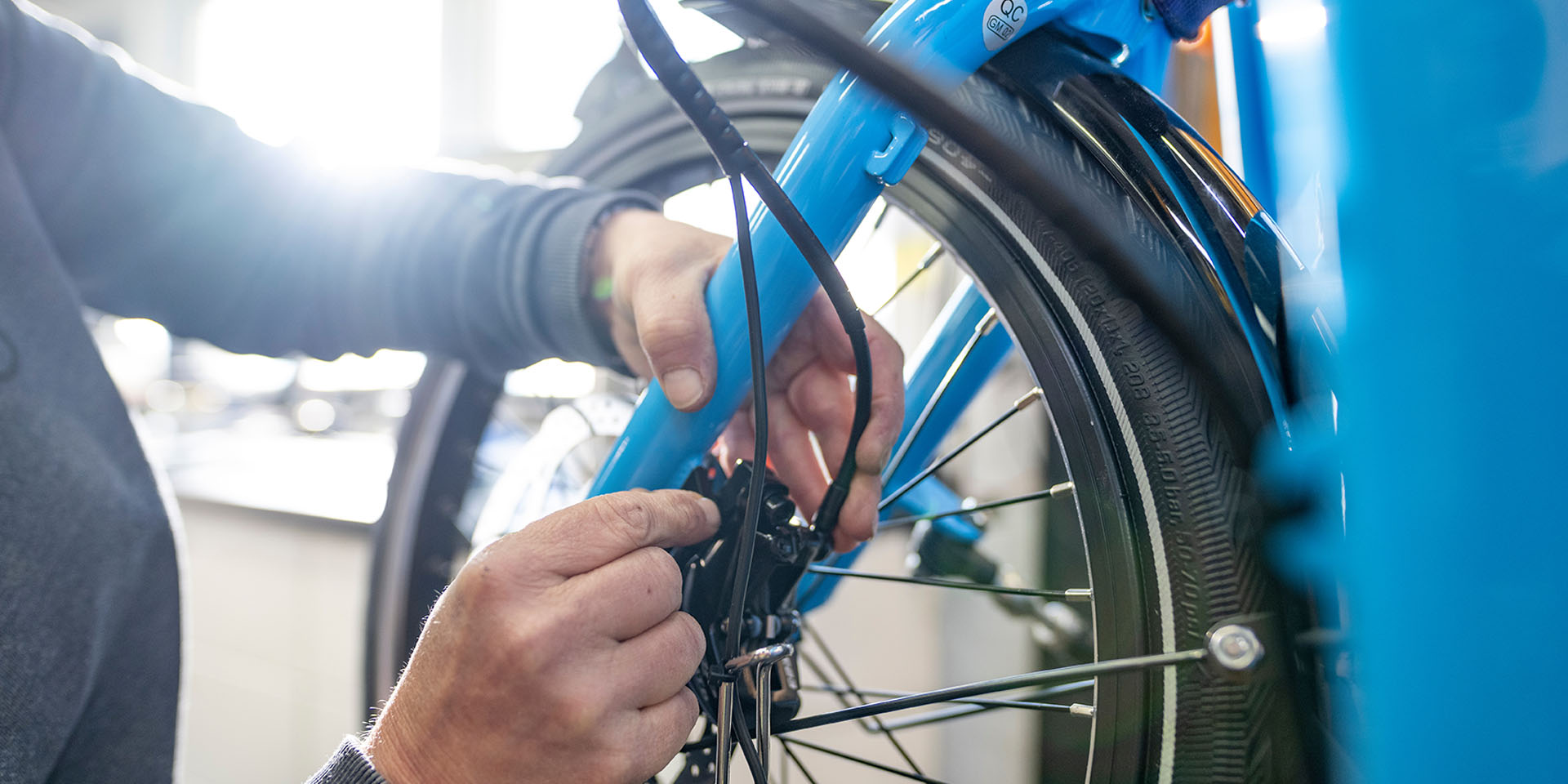 Make sure your bike is in good condition. Check tyres, brakes, gears and chain. Lubricate the chain and make sure everything is working well. If necessary, you should take your bicycle to a specialist for inspection before the tour.
Exercise regularly
If you want to cycle longer distances, it is important to exercise regularly beforehand. Gradually increase your endurance by incorporating longer rides into your training. Use hills or mountainous terrain to prepare for different terrains.
Plan your route
Determine your desired route in advance and plan your stages carefully. Take into account the distance, the terrain and possible stops for breaks, food and overnight stays. Good planning will help you to make the tour more efficient and minimise unexpected problems.
Pack the right equipment
Pack only what is necessary to keep the weight as low as possible. Make sure you have the right equipment, such as a well-fitting helmet, cycling gloves, comfortable clothing, sunscreen, sunglasses and enough water. Be sure to also remember an air pump, tools and spare parts for your bike in case repairs are needed.
Food & drink
Don't skimp on water! Drink enough water during the bike ride, especially in warm weather. Also plan your meals and snacks accordingly – ideally fresh fruit and nuts – to ensure sufficient energy intake during the tour.
Tip:
Water quality is also important!
Make sure you supply your body with fresh, re-naturalised water.
Which water is the best?
Weather report and protection
Check the weather forecast for your tour and adjust your clothing accordingly. Do not underestimate the sun! Especially if you cycle for several hours in the blazing sun, you should protect yourself well. Use sunscreen, wear sunglasses and possibly a head covering. But also remember to bring a rain jacket and other weatherproof clothing in case the weather changes.
Breaks and recreation
Plan regular breaks in your tour to rest, eat and regenerate. Listen to your body and take the necessary time to recover to avoid injury or overexertion.
Conclusion: Cycling is the ideal sport to improve your health and stay fit. It offers a holistic workout, strengthens the cardiovascular system, helps with weight loss and promotes mental health. Whether as a leisure activity or as a means of transport, alone or with the whole family - cycling is the ideal sport for all ages and has a positive effect on health and well-being.
Products for sports and on the go